The Burden of Light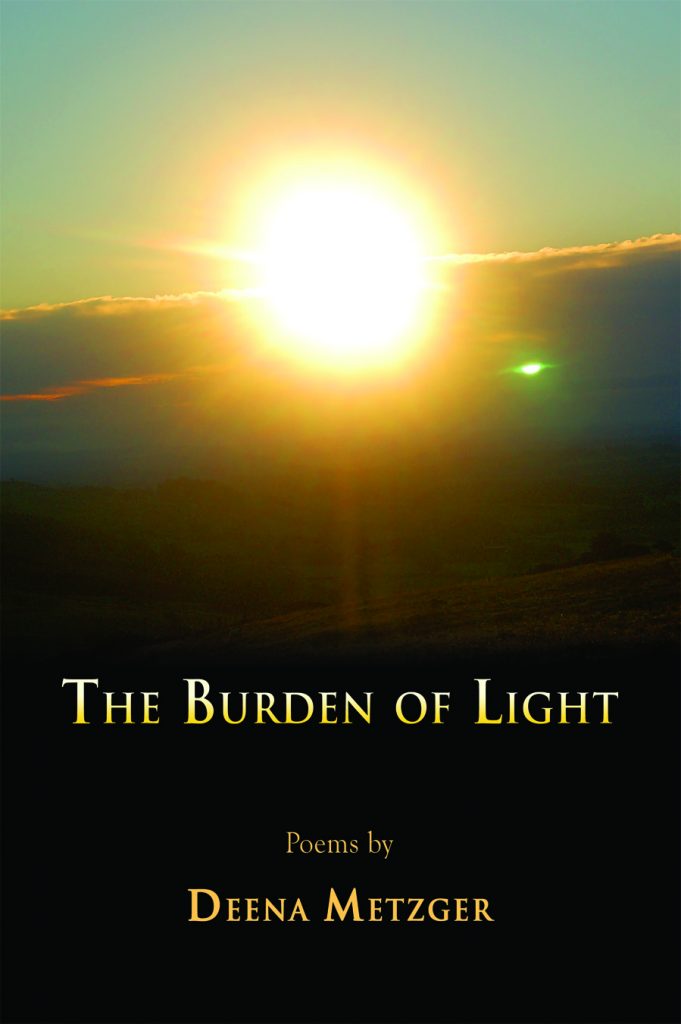 The Burden of Light, poems and photographs by Deena Metzger, designed by Stephan Hewitt, published by Hand to Hand.  These poems were written on behalf of the Earth.
One doesn't need to search for miracles; the miracle of each moment is found in these poems. It is one thing to notice that they exist at all – given the busyness of lives that no one can claim to be solely their own – but to be able to sing them with a voice that is as wise and tender as it is raw with vision, grief and beauty, that is something few can do. Thankfully, Deena Metzger has no choice in the matter; she rattles the bones of the world, lifts up the burning carcass of what we've made, and yet somehow remains able to assure us that despite the raining darkness, grace is unavoidable. It's in the way she sees, understanding that light is not only a burden, no more that love is, or a grateful heart. It's in the way she knows, and the courage she possesses neither to turn away from what destroys us, nor to forget what it is that all things are. Read her; you will see.


Peter Levitt, author of

Within Within, One Hundred Butterfiles

and other books of poetry, prose and translation.
From the preface
I want you to read this entire book, cover to cover like a prayer for us, because it is a prayer, and it is like a mantra, because, as its planet- haunted and haunting author, Deena Metzger knows in her bones, it is maybe all we have, all we will — have. 

The Burden of Light breaks the heart while it teaches. My heart is broken along with hers for the life we have left. Yet her words are talismans to hold. All I could do was to read and re-read. I want to scatter her words like water over a drought. Like love over a torment like Abu Ghraib. Yes, this book comes to remind us as it must, and as we must remind one another, of The Burden of Light. 


Margo Berdeshevsky – Before the Drought

The Burden of Light is now available from Book Clearing House, 800-431-1579 or visit their website or Bookshop.org or order through your favorite independent bookstore.
Hand to Hand Publishing
PO Box 186
Topanga, CA 90290
ISBN-10: 099834432X
ISBN-13: 978-0998344324