From Grief Into Vision: A Council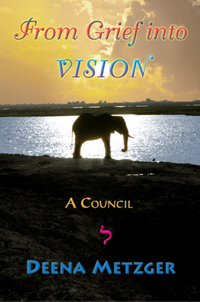 From Grief Into Vision: A Council, by Deena Metzger is sponsored by Mandlovu, a nonprofit educational member organization of International Humanities Center (IHC). Mandlovu was created to support visionary artists, writers, and healers who are committed to the exploration, revitalization, and preservation of indigenous wisdom and medicine traditions as paths to planetary healing and peacemaking on behalf of all beings. Because of the global challenge of these most difficult times, Mandlovu's goal is to sustain those teachers and practitioners whose work is devoted to the generation and manifestation of new forms of consciousness.
From Grief into Vision: A Council is now available from Book Clearing House, 800,431-1579 or visit their website or Bookshop.org or order through your favorite independent bookstore.
The cost of this book reflects the cost of materials and essential labor undertaken by the community around Daré and Hand to Hand. We would greatly appreciate contributions to support the publication and distribution of this book. Make tax-deductible donations to Mandlovu – Hand to Hand c/o International Humanities Center – P.O. Box 923, Malibu, CA 90265.

As this book arises from the desire to meet the great need of these times, it is our hope that you will join us in all ways you can in our labor to bring the book to the community and to those who will be informed and sustained by it. Please tell your friends and your colleagues.