Bio
Deena Metzger was born in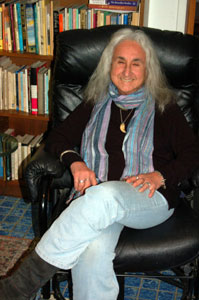 Brighton Beach in 1936, then lived in Sea Gate, and went to school in Coney Island; Brooklyn is a fine start for a writer. Her father, Arnold Posy was a Yiddish writer and he and her mother, Bella Posy, were deeply involved in a rich and committed Yiddish cultural and spiritual life.
As a child, she believed walking would teach her how to be a poet and so she circled the neighborhood, from the beach to the bay, each night, until she moved to Los Angeles in 1957 where she continued walking along the ocean and then beginning 1981, in Topanga State Park and its environs. Her walking practice became the ground for her poetry series, "Walking with Neruda." Her life has been divided between a call to solitude and the need to build and sustain community.
For Deena, the creative and spiritual life is highly collaborative and so her story here connects her creative and community work to the deep friendships and relationships, which have characterized her life.
From the beginning, her writing has concerned itself with the interplay between the human and the natural world and the hope that the ways of original creation might be restored so all beings might have a viable future.
Deena attended Brandeis University 1953-55 and Brooklyn College 1955-1957. She and her fellow English and philosophy major Shela Pearl shared editing Landscapes, the Brooklyn College literary journal. It was impounded, one semester, because of a story criticizing the Catholic Church written by then student Victor Perera, the future Guatemalan Jewish journalist, novelist, human rights activist. The experience of having the magazine censored and then released had a life-long effect on Deena, who remains a passionate advocate for freedom of speech and the responsibility of a writer to carry vision and speak truth to power. After losing touch with each other, she met Victor Perera again in 1987, after she read that he had published a novel, Rites. They remained close friends until his death in 2003. He is a protagonist in her 2012 PEN Oakland Josephine Miles National Literary Award winning novel, La Negra y Blanca.
As a young teen-ager, she had set twenty-five as the final year for writing a first novel, in order to commit to becoming a writer. Accordingly, she began to write Waterwall (unpublished) in 1960 even though her son, Marc, was only a few months old, she was pregnant with her second child, Greg, and was in graduate school at UCLA.
Graduate school nurtured her growing passion for those writers who were equally concerned with history, politics and human suffering as they were with the mysterious interior realms of psyche, dream and myth. Before receiving her masters degree, an essay "Hart Crane's Bridge: The Myth Active," was accepted for publication in the Arizona Quarterly. The poem introduced her to the myth of Quetzalcoatl and the mythos of Latin American that would remain a constant in her life and writing, manifesting fully, almost fifty years later, in La Negra y Blanca. A second essay, written before she received her degree, "Variations on a Theme: A Study of 'Exiles' by James Joyce and 'The Great God Brown' by Eugene O'Neill," was published in Modern Drama. It anticipated her on-going interest in theater and the inner life.
The four unpublished novels that followed Waterwall, explore themes that would be developed in future work. What Rough Beast describes the inner journey of a lion that had escaped from a wild animal park in an urban American setting. Flying With a Rock was deeply influenced by the work among the Huichole of Deena's dear friend and colleague, anthropologist Barbara Myerhoff. Scars on the Body speaks to Deena's journey to Chile in 1972, a year before the brutal coup that overthrew the country's democratically elected president, Salvador Allende. Another important unpublished manuscript, The Broken Treaty, is about animal intelligence and human betrayal.
Skin:Shadows/Silence: A Love Letter in the Form of a Novel, was her first published book.
(See Home page, Book page and Bibliography for her history as a writer.)
In 1969. she was the plaintiff in a major Academic Freedom case, in which she was fired from her tenured teaching position at Los Angeles Valley College for teaching a unit on Censorship and Pornography, applying Supreme Court decisions to literature in her English class. The California Supreme Court found in her favor and she was reinstated to her teaching position in 1972. Her attorney, David Finkel, saw the case as an opportunity to teach her English lesson to the citizens of California.
One of her students at Los Angeles Valley College was Morena Monteforte, whom she visited many times in Mexico and who is a protagonist in Deena's novel, La Negra y Blanca.
In 1964, Deena encouraged Art Kunkin, in founding The Los Angeles Free Press and shortly afterwards became the Drama and Arts Editor of the alternative weekly. She left to qualify for a Community College teaching credential and to teach at Los Angeles Valley College, but returned briefly, during the time of "The Case," 1969-70.
Teaching in the Critical Studies Department at California Institute for the Arts 1970 to 1975, she had the opportunity to initiate many innovative classes including the first academic course in Journal Writing. This original program can be traced to the more than ten year friendship between Deena and writer and diarist Anaïs Nin.
At Cal Arts, she met feminist graphic designer, Sheila de Bretteville. They entered into many discussions about the existence and nature of a woman's culture. In 1973, she joined de Bretteville and feminist art historian, Arlene Raven, at the Feminist Studio Workshop and the Woman's Building. Deena founded and directed the Writing Program and the Woman's Writing Series at the FSW and the Woman's Building 1973-1977. In 1975, she, and other writers, produced the conference, Woman's Words, which explored the nature of the emerging women's literature and culture, the first of such conferences since The World's Fair: Columbian Exposition, 1893. While at the Woman's Building, she gained a PhD from International College with her dissertation, In Her Image: Woman's Culture.
In 1972, a book, New Writing in Latin America, by J.M. Cohen, literally fell off a bookshelf into her hands at Pickwick Bookstore in Hollywood and, like her meeting with Anaïs Nin, changed her life and her writing. She traveled for an extended visit to Chile, with art historian David Kunzle, and was deeply moved by the new government, the Unidad Popular. There she met many writers and artists connected with the social revolution, including novelist and playwright, Ariel Dorfman. Kunzle was bringing his exhibit, "American Posters of Protest"to the National Museum in Santiago. He and Deena would bring it Cuba the following year where they would be at the time of the coup on September 11, 1973. Ariel's book, Para leer al pato Donald, translated into English, How to Read Donald Duck, by Kunzle, was one of the books the Pinochet dictatorship burned and tossed into the sea. Ariel and Chile figure in her novels Doors: A Fiction for Jazz Horn and La Negra y Blanca.
She was a member of the film collective Lucha, which created the film pamphlet Chile: with Poems and Guns, 1973, the first film response to the U.S. assisted coup in Chile. They had access to footage developed by journalist filmmakers, Walter Locke and Charles Horman. Horman was killed by the military within hours of the coup. His story was told ten years later in the Costa-Gavras' film Missing, starring Jack Lemmon.
In 1974, she and David traveled to Europe, where she connected with novelist Julio Cortázar, with whom she collaborated, twenty years after his death, on the novel, Doors: A Fiction for Jazz Horn.
Before knowing that she, herself, had breast cancer, she was writing a novel, The Book of Hags, which asked why so many women had cancer, why then and why so young. In 1976, Everett Frost, directed a radio play for KPFK Pacifica based on the novel-in-progress. Available for purchase here.
After a mastectomy in February 1977, she wrote one of the first books on healing breast cancer. Tree, the journal she kept during this time, was included in her book, The Woman Who Slept With Men to Take the War Out of Them, published by Peace Press. Coincident with this publication, she and photographer Hella Hammid collaborated with graphic designer, Sheila de Bretteville to create the exuberant mastectomy poster variously known as Tree Poster, or the Warrior Poster, on the cover of the current edition of Tree: Essays and Pieces, North Atlantic Press. The poster of her tattoo has been featured in articles, books, anthologies and on book covers around the world.
Writing Tree, she explored her essential insight – "Heal the life and life will heal you" – that disease and illness can be messengers guiding us to change our lives. This idea developed over the years into her understanding of the necessary relationship between individual healing and social change.
Before she left the Woman's Building, she collaborated with theater director Jeremy Blahnik on the theater piece, Not as Sleepwalkers. They gathered women over 65 and women under 30 to openly share their life experiences. Susan Albert Lowenberg produced the play, which toured California, enacted by some of the original participants.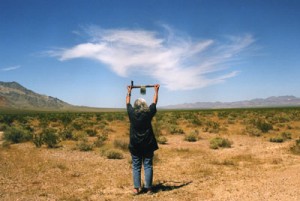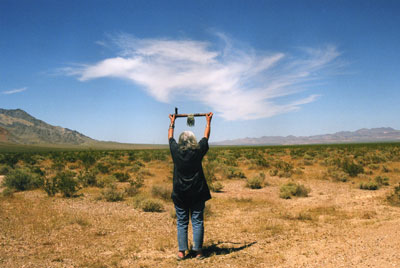 Deena's experience with breast cancer opened the way to her development as a healer and medicine woman. She created "Healing Stories," the therapeutic use of "the story that the affliction is telling" to address diseases, spiritual and emotional crises as well as community, political and environmental disintegration.
This led, in turn, to her work as a counselor, later a spiritual counselor. In this, she was deeply guided by the wisdom of sociologist, analyst and Dean of the Center for Democratic Institutions, John R. Seeley PhD, whom she met when they served together with two others, in the absence of a Dean of Faculty, on the Committee as Dean at California Institute for the Arts.
In 2004, she delivered the Keynote address, "The Soul of Medicine," to the Annual Meeting of the American Holistic Medical Association. Again, this marked a new development of her healing work.
Since 2004, she has been bringing together medical people and medicine people as peers and imagining a medicine that does no harm to individuals or the environment. Colleagues, who are currently holding ReVisioning with her are, Kjersten Gmeiner, MD, Marc Weigensberg, MD, Tobi Fishel, PhD, Naz Motayar, PhD, Muz Richenel Ansano, MA former Director of Global Medicine Education Foundation, Sharon Simone, EdM, and Cheryl Potts, Native Elder and teacher.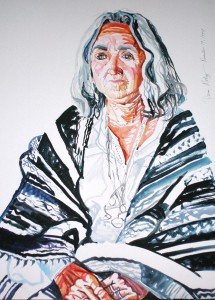 Having cancer, led her to leave teaching at Los Angeles Valley College and the FSW, and she began teaching writing privately, which she continues to do with both private clients, classes and workshops, nationally and internationally. Many workshops related to creativity and transformation were developed with friend and colleague, Jane Alexander Stewart, a psychologist. Writing For Your Life: A Guide and Companion to the Inner World, 1992, has become a classic writing text. Her present interest is to help bring forth a Literature of Restoration that is committed in form and content to a viable future for all beings.
In the 70s, she worked with different theater friends and three members of the soon to be formed Traveling Jewish Theater, (Naomi Newman, Corey Fisher, Albert Greenberg) in impromptu theater development. From this she was inspired to write Dreams Against the State. At the occurrence of the meltdown at Three Mile Island in 1979, she and theater director, Steven Kent, decided to produce the play in different private homes and community centers in lieu of formal theatrical settings. Thinking of the journey of protest against the Vietnam war of poet priest Dan Berrigan, they realized that when people must go underground, they do so in other people's homes.
In 1980, because the Eleusinian Mysteries were a subtext in the play, Dreams Against the State, Deena and Steve recovered the ancient rites and rituals and enacted them in Greece for the first time in 1,500 years. They repeated the rites again in 1990 and 1996. The play, Dreams Against the State was produced again at Seven Stages Theater in Atlanta, Georgia and La Verne University, La Verne, California.
After the Eleusinian Mysteries journey in 1980 she traveled to Israel. This led to her novel, What Dinah Thought. Another pilgrimage, this time with the writer Michael Ortiz Hill to the Death Camps in Central Europe in 1989, is chronicled in the novel The Other Hand, addressed to Cardinal Lustiger. This was her first published book with Red Hen Press. Volume 2 of Red Hen's L. A. Literary Review featured Deena's work and a Forward/Interview by poet, Zen teacher, Peter Levitt. Peter and Deena met 1979 when she produced, "Flores para Nicaragua," a marathon poetry reading at the independent radio station KPFK Pacifica; their friendship continues to flourish.
She and anthropologist Barbara Myerhoff met Traveling Jewish Theater founder Naomi Newman through a conference organized by Jungian analyst Edith Sullwold. Deena, Barbara and Naomi remained close friends until Barbara's death in 1985 and Naomi and Deena have continued their friendship and collaboration. Naomi was Program Director of the pioneering holistic health Center for the Healing Arts organized in 1973 by analyst Hal Stone. Deena cites her association with Naomi and the Center as central to her spiritual growth and healing work.
Honoring their long friendship and collaboration, Deena is the Literary Executor of Barbara Myerhoff's estate. She and psychotherapist, gerontologist and poet Marc Kaminsky established the Myerhoff Center to honor their commitment to bring Myerhoff's important, unpublished work into the world. They edited, together with poet, publisher, Mark Weiss, Myerhoff's Remembered Lives: The Work of Storytelling, Ritual and Growing Older.
In 1985, Deena attended the NGO United Nations Conference on Women in Nairobi, as a presenter, and had the privilege of teaching her new work on inner scrutiny and transformation thorough responding to oneself as a government, Personal Disarmament, to an international audience at the Peace Tent.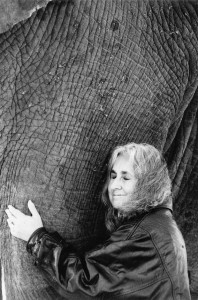 The groundbreaking anthology, Intimate Nature: The Bond Between Women and Animals, co-edited with Linda Hogan and Brenda Peterson, was published in 1999. The book established the reality of animal intelligence and agency as well as testifying to the wisdom that derives from intimate and subjective relationships.
Editing the book, connected Deena with many animal activists, most especially Gillian Van Houten, who had hand raised and restored to the wild, the lion Shingalana, and Krystyna Jurzkykowski, founder and director of Fossil Rim, a preserve for endangered African Elephants in Glen Rose, Texas with whom she formed a life long friendship.
In 1999, she also visited the healer (nganga) Augustine Kandemwa in Zimbabwe with Michael Ortiz Hill, to whom she was married from 1996 to 2013. They returned to Zimbabwe in 2000 and traveled to the Wild Animal Preserve in Chobe, Botswana where she met the (wild) Elephant Ambassador. They were accompanied by Michele Daniel, a Jungian analyst and shamanic practitioner, Amanda Foulger, who introduced Deena to indigenous ways of knowing and healing. In response to this meeting, she started Daré, (meaning Council in the Shona language of Zimbabwe), a monthly gathering on behalf of personal transformation, individual, community and environmental healing and social change.
Currently, there are six Darés in the U.S and Canada. The two that are particularly active are led by Elenna Rubin Goodman and Garner MacAleer, in Oakland, CA, and Wilderness Sarchild and Chuck Madansky in Cape Cod, MA. Daré introduces unique ways of spirit-based healing grounded in Council, dream telling and music, sound and energy work. Deena leads the Topanga Blue Flag Daré, supported by many community members and her assistant and apprentice, Danelia Wild, a sound healer. Valerie Wolf, Lawrie Hartt, Sharon Simone, Cheryl Potts, Ayelet Berman Cohen and Nora Jamieson have been important colleagues with whom thinking about Daré mind, dreams, indigenous wisdom, the animals, has developed.
A return visit to Kandemwa's Daré in 2001 led to writing Entering the Ghost River: Meditations on the Theory and Practice of Healing , published by Hand to Hand, September 11, 2002. Hand to Hand was founded by Stephan Hewitt, the publisher, and Deena in 2001 as "a community based endeavor that supports independently published works and public events – books, plays, music, performances, films etc. – free of the restrictions that arise from commercial and political concerns. It is a forum for artists who are in dynamic and reciprocal relationship with their communities for the sake of peacemaking, restoring culture and the planet."
Other books by Deena published by Hand to Hand are: Entering the Ghost River: Meditations on the Theory and Practice of Healing, From Grief into Vision: a Council, and the novels Feral, La Negra y Blanca, A Rain of Night Birds and La Vieja: A Journal of Fire.
Deena met the Elephant Ambassador 5 more times. The last meetings were in 2011 with Krystyna Jurzkykowski and 2016 and 2017 with Cynthia Travis. In 2005, she met him with a team from and connected with everyday gandhis, the peacebuilding NGO started by Cynthia Travis; Deena is a Senior Advisor to the organization. Through her work regarding the Elephant Ambassador and animal intelligence and agency, she is on the faculty of the Kerulos Foundation, founded and directed by Gay Bradshaw, whose work focuses on trans-species psychology, the theory and methods for the study and care of animal psychological wellbeing and multi-species cultures.
Deena's current work is envisioning a new future for all beings. Accordingly, she is calling the Literature of Restoration into being. Considering new forms of peacemaking, healing, sanctuary for all beings is encoded in the "19 Ways to the 5th World." Essential to the 19 Ways are respecting and restoring Indigenous ways, the Pathless Path and the No Enemy Way.
She works with writers to develop the literary voices essential for this time and she is a mentor to those who are seeking their own paths to be healing presences for the future.
In 2014 she co-led an Intensive with Steven Kent at LaVerne University to create a healing Dream Theater. This in accordance with her new work developing Dream Depot, community response to the guidance received from community dreams.
Deena's poetry has been set to music by artists, including Charlie Murphy, Jami Sieber, Betsy Rose, Shawna Carol and Naomi Newman. Ruin and Beauty, New and Collected Poems was published by Red Hen Press and The Burden of Light is her latest published book of poetry.
One focus is on uniting Western medical ways with indigenous medicine traditions through ReVisioning Medicine which she has convened since 2004.
For many years Deena has lived at the end of the road at the edge of the wild, in Topanga, California with various animal companions. The latest one is GentleBoy, who joined her in January 2019. Shoonaq, daughter of the late Cherokee, one of the long lineage of four-footed companions, was born on the land in 2006 and since lived with her human companion, Cheryl Potts until she crossed in June 2021 at age 15.
Deena has two sons, Marc and Gregory Metzger, and two granddaughters, Jamie Lynn and Sarah Ann Metzger.
SaveSaveSaveSave